Introducing Active Assist: Reduce complexity, maximize your cloud ROI
There's huge value to running in the cloud. That's why we continue to see cloud adoption grow year over year. But running more applications in the cloud means more systems to manage—and more complexity. In fact, nearly half of C-level executives cited complexity as the factor that will have the most negative impact on cloud computing's ROI over the next five years1. That's because complexity causes many problems: added waste, reduced security, and increased administrative toil to name just three. All of these things make your day harder and reduce your cloud ROI.
That's why we're announcing Active Assist, a portfolio of intelligent tools and capabilities to help actively assist you in managing complexity in your cloud operations. Active Assist extends the core concepts we initially introduced with Policy Intelligence at Next '19 and applies them to the rest of Google Cloud. It leverages data, machine learning, automation, and intelligence, to bring "Google magic" to you, so you can enjoy a simpler, smarter cloud experience into your day-to-day operations.
Active Assist's portfolio will help you with three key activities: making proactive improvements to your cloud with smart recommendations, preventing mistakes from happening in the first place by giving you better analysis, and helping you figure out why something went wrong by using intuitive troubleshooting tools. With Active Assist as your sidekick, these tasks become simple and fast, helping you shift your time from administration to things like innovation.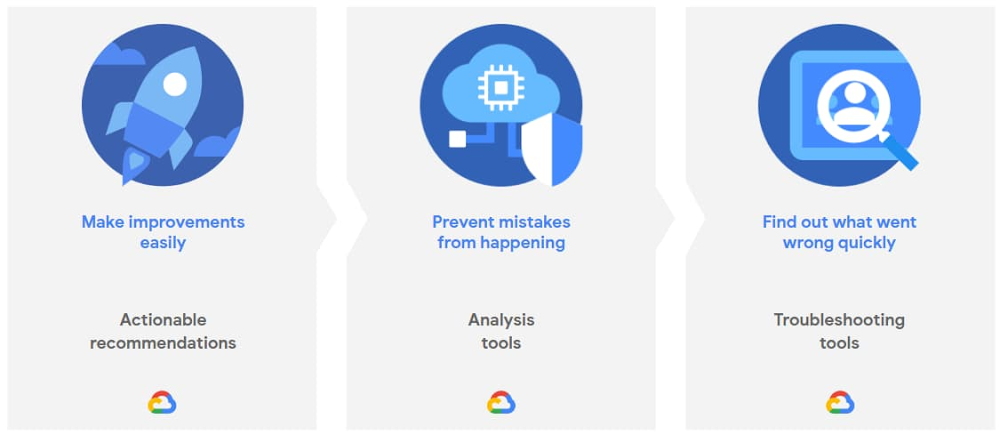 Through these troubleshooting and analysis tools, and actionable recommendations, Active Assist's core aim is to make it easy for you to maximize the value you get from the cloud, and actually includes some capabilities you may already be familiar with:
In addition to these existing capabilities, we'll continue to add more functionality to the Active Assist portfolio with contributions from across Google Cloud teams who are working on security, compute, networking, data, cost and billing, and more. In fact, if you're interested in testing out new capabilities before they're made publicly available, be sure to fill out the form to join our Active Assist Trusted Tester Group.
Simply put, whether it's sizing your compute and storage resources, securing your identities, configuring your networks, or maximizing your billing discounts, Active Assist's mission is to add intelligence into your operations by integrating it directly into your daily tasks. Rather than hunting down these tools and recommendations individually, Active Assist alerts you directly within your workspace, and surfacing context-sensitive recommendations specific to the task at hand.
Square, the San Francisco-based financial services, merchant services aggregator, and mobile payment company, has been using Active Assist and is seeing major benefits:
Active Assist's Policy Troubleshooter is going to make my life so much easier. I can't begin to tell you how I've suffered from generic error messages in the past. Policy Troubleshooter is exactly what we need to quickly find, understand, and fix policy misconfigurations. Paul Friedman, Sr. Security Engineer, Square

Our goal with Active Assist is to make sure we help you manage the challenges that arise with cloud complexity, so you can optimize your cloud everywhere while saving time and focusing more on improving your business operations. To facilitate that, we want to make sure you can make the changes and improvements you need quickly, clearly, and easily. We've got a lot that can help you today, and even more planned for the future—so stay tuned! If you want to learn more about what's included (and what's new in) Active Assist, be sure to attend our upcoming Google Cloud Next '20: OnAir session, CMP100: Cloud is Complex. Managing it Shouldn't Be. Or you can also visit our Active Assist web page, too.
---
This website is not part of the Google website or Google LLC. Additionally, this site is not endorsed by Google in any way. Google is a trademark of Google LLC.