GKE powers new software-defined NetApp Cloud Volumes Service
Enterprises are moving critical workloads to the cloud to gain flexibility and agility, and their storage platforms need to evolve—without sacrificing capabilities or quality. Specifically, enterprise workloads running in the cloud need a storage platform that can handle complex operational requirements for uptime, predictable performance, data management, scalability, protection, application portability and data mobility, just to name a few.
NetApp Cloud Volumes Service for Google Cloud was built to run enterprise workloads such as Windows, virtual desktop infrastructure (VDI), SAP HANA, and VMware running on Google Cloud VMware Engine, all while delivering these enterprise storage capabilities. Today, we are announcing a new software-defined Cloud Volumes Service (CVS) in beta. While the existing CVS service relies on NetApp hardware, software-defined CVS is powered by Google Kubernetes Engine (GKE), and consists of a containerized version of NetApp's ONTAP data management software. This first-of-its-kind enterprise file storage service is available in five Google Cloud regions, with plans to expand further in the coming months. Additionally, Google Cloud customers that currently run in regions that already have CVS now have access to cross-region volume replication based on NetApp SnapMirror® disaster recovery technology in alpha, for further confidence about the durability and availability of their data.
Making it easier to migrate to Google Cloud
With Cloud Volumes Service, Google Cloud and NetApp are simplifying enterprises' ability to deploy critical workloads in the cloud. For example: Microsoft customers may want to rehost Windows Server instances with SMB protocol support to accelerate migration, consolidate distributed file servers, and modernize digital workspaces. Likewise, Cloud Volumes Service can help SAP HANA customers ensure optimal application performance at scale, deliver data protection for near-zero RTO critical workloads, and optimize development lifecycles. All of these capabilities are now available through the CVS service directly in the native Google Cloud Console.
Cloud Volumes Service is now software-defined
The new software-defined Cloud Volumes Service is the first enterprise storage system delivered in GKE to offer ONTAP's application data management capabilities plus Kubernetes' cloud-native agility and flexibility. This service was made possible through a deep collaborative engineering effort by both NetApp and Google Cloud, which is grounded in the companies' joint commitment to modernizing enterprise infrastructure. Both emerging cloud-native and traditional enterprise applications can now enjoy cloud-native storage with enterprise-grade features such as rapid scaling, and higher availability, with enhanced regional support across the Americas and Europe.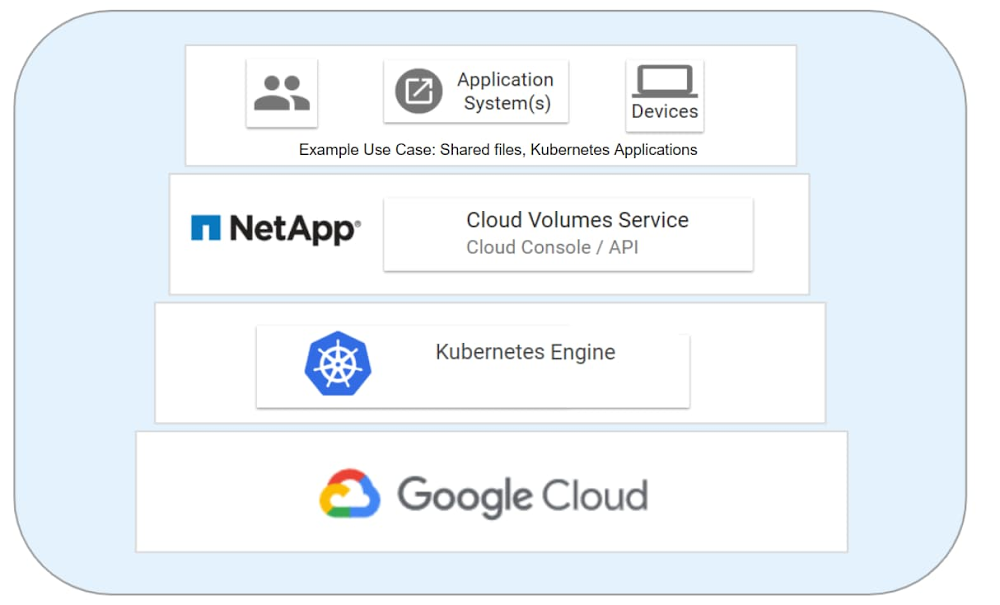 To bring the software-defined, containerized ONTAP Cloud Volumes Service to life, Google Cloud and NetApp collaborated on numerous networking features for GKE. For example, by partnering on the latest GKE networking constructs, Cloud Volumes Service is able to securely reach massive scale without reducing the customer IP address space. By implementing new modules to optimize the availability for files services, both ONTAP and GKE components operate as a single system consistent with NetApp storage architecture best practices.
You can access Cloud Volumes Service from the Google Cloud Console and now consume volumes in either the software-defined form for deploying emerging and existing general shared file workloads, or by using our existing high-performance offering for running extreme throughput, low-latency business-critical workloads like SAP HANA.
Availability in new regions
Cloud Volumes Service is doubling its footprint by expanding into new regions to address customer demand for the service. These new regions include:
Oregon (us-west1)

South Carolina (us-east1)

Belgium (europe-west1)

Finland (europe-north1)

São Paulo (southamerica-east1)

Netherlands (europe-west4)

Montreal (northamerica-northeast1)

And constantly adding more. See the full list here
Improved monthly uptime
By running on GKE, Cloud Volumes Service can deliver excellent availability. At GA, Cloud Volumes Service will have a planned recovery time objective (RTO) of less than 90 seconds and an uptime target SLA of 99.95% per volume.
Security
By building on GKE, Cloud Volumes Service delivers complete data isolation and privacy by providing each customer with their own private connection and VPC. Google Cloud's multilayer infrastructure security encrypts data at rest using strong AES-256 bit encryption, and delivers it securely using Google's private services access framework.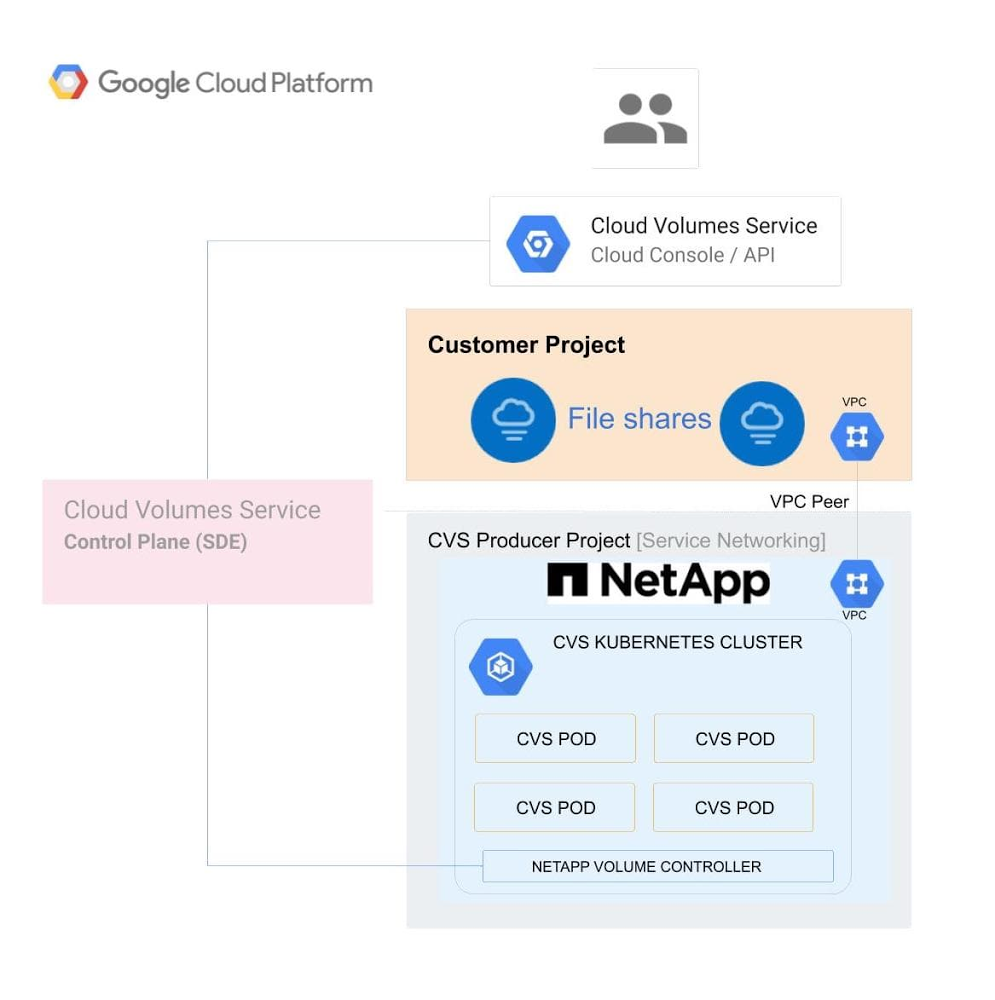 Enterprise readiness
Software-defined Cloud Volumes Service is well suited for general-purpose workloads, including Windows workloads, SAP shared files, web applications, CI/CD workflows, and user file shares and offers these enterprise features:
Portability of on-premises tooling and operational familiarity with NetApp constructs from the Google Cloud Console

Instant access to volumes from on-premises or across regions

Support for a mix of protocols with NFS available now and SMB coming soon

High performance and advanced data management features such as cost-effective NetApp Snapshots, and backups to Google Cloud Storage.

Simple scalability, with non-disruptive volume resizing and performance

Volumes of up to 100TB each, with up to 100 volumes per zone per project. This means there's always room to grow to meet the demands of innovation.
Ready to give it a try? NetApp is currently offering 25TB of Cloud Volumes Service on Google Cloud free of charge. Sign up today.
This website is not part of the Google website or Google LLC. Additionally, this site is not endorsed by Google in any way. Google is a trademark of Google LLC.