Draw a line in the snow: using tech with kids around the holidays
In just a few days, most kids will be out of school for the holiday break. And while you and your family might be building snowmen and hanging out by the fire, the extra free time means your kids will also be spending more time on their devices. I chatted with Stephen Balkham at the Family Online Safety Institute (FOSI) and the two of us came up with some tips for striking a good balance with technology this time of year.
Stephen: Start winter vacation with a tech conversation
Just like you might sit down and plan out where you're going over the holidays, you can set a game plan for how you and your family will use technology. Set expectations with your kids for how much screen time is appropriate each day, when screens are okay, and what kinds of things you want them to be doing on their device. Don't forget to set restrictions for yourself as well–the best way to get your kids to use their devices appropriately is to model how to be a good digital citizen yourself.
Joseph: Turn screen time into family time
Screen time can be a really positive thing for your kids if you explore with them and bond over the things they like. Sometimes it can be tough to get a read on what your kids are into these days. The Family Link app (available for kids with Android and Chromebook devices) lets you set digital ground rules for your kids as they learn, play and explore online. Check out the app activity card to see what they're interested in, and use it to strike up a conversation. Try downloading some of the apps they like and playing with them. Let them teach you a thing or two about how to play the games they like—you might feel silly, but it's worth the cool points.
Stephen: Use tech to explore fun and educational things to do over the break
With the extra time off school and work, use the technology in your pocket to research, plan and explore new activities in your area. Do some research to see if the zoo or a local museum is doing anything special for the holidays. Using technology during your break doesn't have to be for entertainment—it can help you find educational experiences for your kids as well.
Joseph: Find teacher-recommended content for your child's new favorite device
If your child is getting a new device to play with this holiday season, you're probably already thinking about what apps they'll use. To encourage your kids to use tech that will help them learn, we're adding a host of new apps to our teacher-recommended content card in Family Link.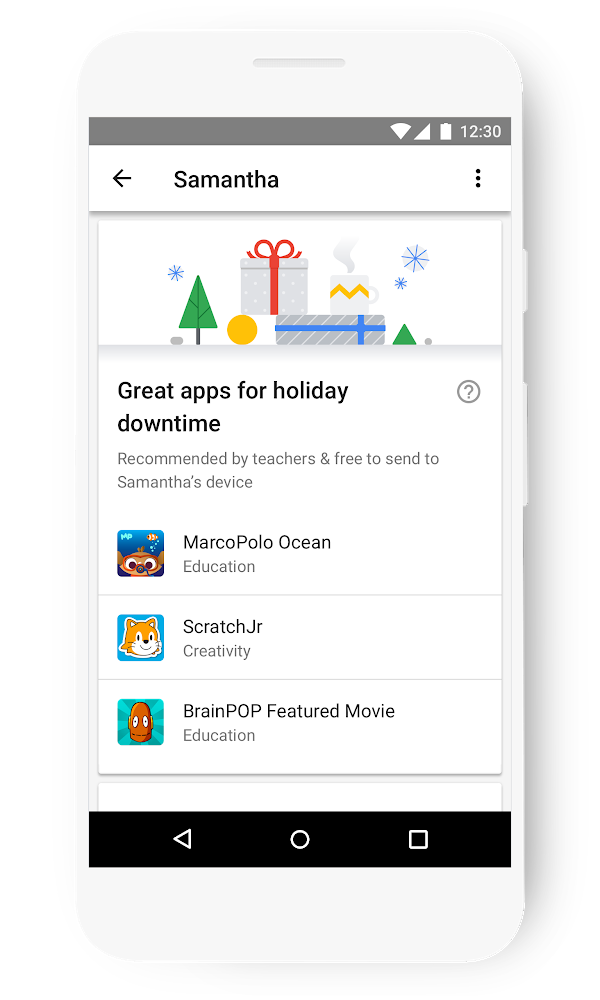 The app recommendation card is currently only available to parents using Android phones. Visit our help center to learn more about how to share suggested apps with your kids.
Check out FOSI's advice on Good Digital Parenting for more tips on how to confidently navigate the online world with your kids. To learn more about Family Link and how it can help encourage healthy digital habits for your kids all year round, visit our website.
This website is not part of the Google website or Google LLC. Additionally, this site is not endorsed by Google in any way. Google is a trademark of Google LLC.