A cloud workforce is ready for the unexpected
Just a few short months ago, when the impact of Covid-19 began to be felt globally, IT teams impressively rose to the challenge to support their businesses and their people in new ways, and in record time. But as companies look toward how they plan to sustain their workforce in the months ahead, there are some insights from before the pandemic that may prove valuable in future planning, especially for IT teams. On Wednesday, October 7, we'll host a webinar and be joined by guest speaker J.P. Gownder of Forrester to take a look back at these challenging times—and forward to where IT leaders are headed from here. We hope you will join us. In the meantime, here's a look at some of the insights we'll cover.
According to a Forrester Consulting study commissioned by Google in January 2020, organizations that reported investing in cloud-based end user computing initiatives ahead of Covid-19 experienced better preparedness compared to businesses that were behind in this area. These organizations were better equipped to handle the rapid change in their working conditions, including working remotely securely, collaborating digitally with their peers and relying on video conferencing instead of in-person meetings. In other words, they were more likely to have a cloud workforce.
In early 2020, Forrester identified that more than 1 in 3 (37%) information workers were Cloud Workers. These workers use a laptop or tablet for work, use cloud-based apps daily, and spend significant time during the workday completing tasks in a browser. While this number already rose from 26% just two years ago, a much larger portion of the workforce has since been transformed into remote or flexible working scenarios, and many will remain remote or in hybrid models for some time, meaning it's likely the number of cloud workers has significantly increased over the course of 2020. You can tune in to the webinar for some future of work predictions from Forrester, but it's clear that cloud workers are on the rise.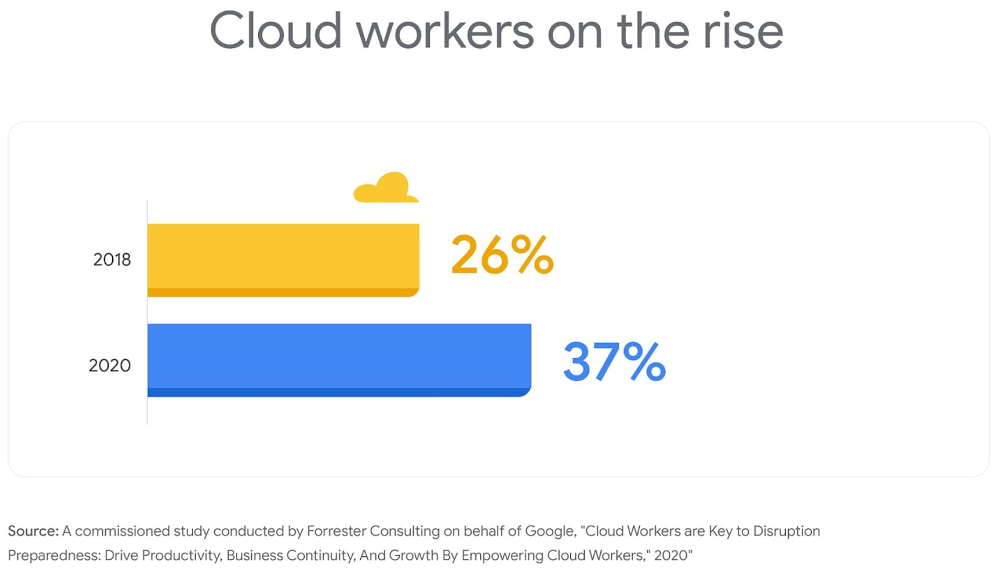 As part of the study, pre-Covid-19, Forrester compared firms that had already significantly or completely evolved their cloud-based end user computing to those that had not. And the results show that these organizations were better positioned to handle the unexpected.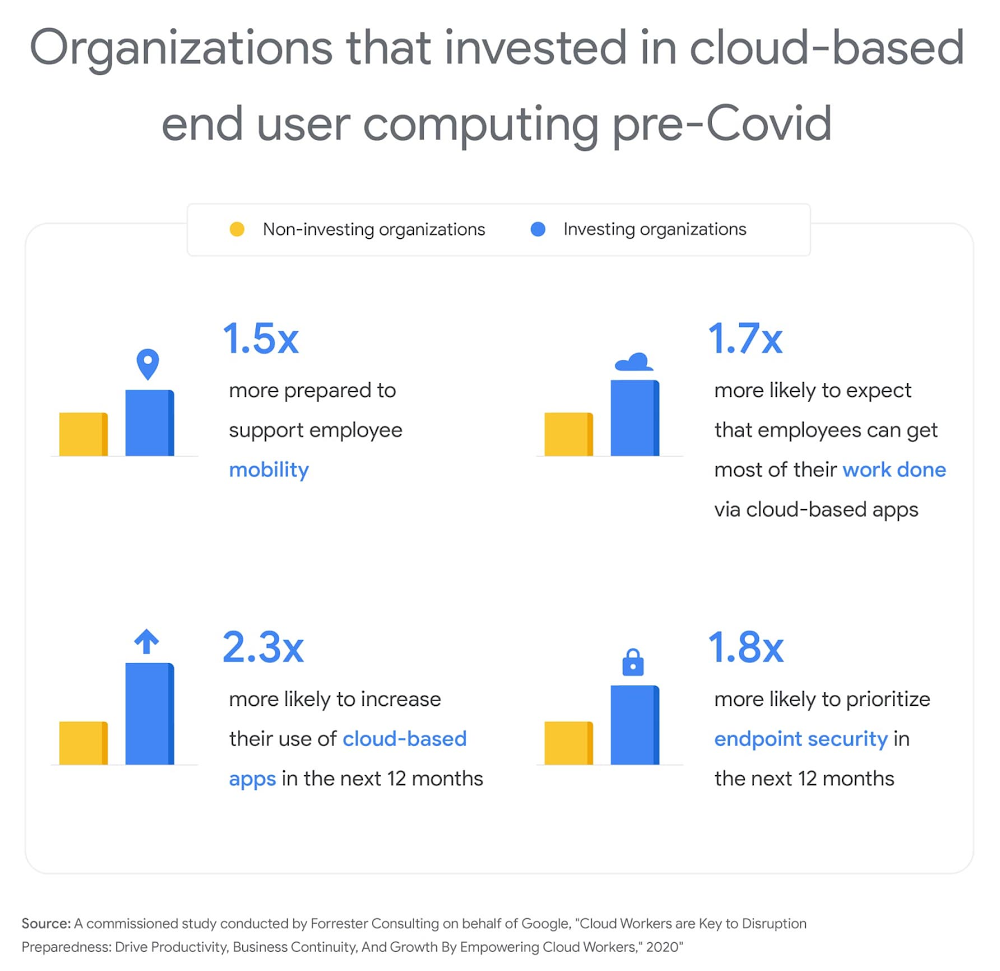 Additionally, organizations that already invested in cloud-based endpoint computing were notably investing at an accelerated rate. The number of firms that had already implemented and were expanding cloud-based computers increased 83% from just two years ago.
An unprecedented event like Covid-19 presents organizations with the challenge of changing the way they prepare and plan around business continuity measures. Supporting a remote workforce was not easy for all enterprises. IT decision makers we surveyed indicated that only 58% of their organizations' work applications could be accessed via a browser. While many have already invested in modernizing infrastructure, there has never been a more critical time to extend those cloud investments into their endpoint computing environments, particularly to support long-term remote working. Because while a cloud workforce was once a means of driving productivity and security, it has become a new standard.
For a deeper look into the impact of investing in cloud endpoint computing, check out the Forrester Consulting study commissioned by Google "Cloud Workers Are Key To Disruption Preparedness: Drive Productivity, Business Continuity, And Growth By Empowering Cloud Workers." or register for our webinar live on Wednesday.
And if you're looking for resources to jumpstart the way you support your growing cloud workforce, you can also check out our remote worker toolkit.
This website is not part of the Google website or Google LLC. Additionally, this site is not endorsed by Google in any way. Google is a trademark of Google LLC.